The Art of Giving
Bored of the same old card / cake combo every time a colleague has a birthday / gets hitched / goes to jail? Then why not try something a little different…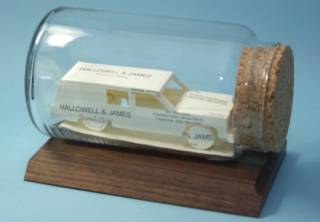 Roll Your Own
Oragami, the Japanese art of paper folding, has been around for hundreds of years. Now welcome the
origami boulder
, or "wadded up paper" as coined by its creater. Not only do they make great gifts, but for an extra few bucks your origami boulder will come with a hand written haiku. Bonsai!
Don't come back, Hilary
Lumbered with the sad envelope of twenty pence coins that constitutes Hilary's retirement pressie fund? Never fear.
The Retirement Gift Shop
hosts a galaxy of moving and inspiring retirement gifts, including the $9.95
Don't Look Back retirement candle
, a 9 oz wax creation with tranquility fragrance, decorated with a 'lovely beach sign', that 'reminds the retiree to move forward.'
Say it with a funeral car
Birthdays, maternity leave, retirement, new job. Nothing says 'we neither know nor are fond of anything about you' like a
business card sculpture
.Yes, for just $64.95 + shipping, you can convert twenty business cards into an amazing bottled card sculpture of a golfer, an ambulance, a computer, even a stock counter. In the words of Business Card Sculptures, they are, 'truly, a work of art.'
Looking for something a little different? How about a
business card hearse
, the perfect retirement gift.